An Extraordinary Man – Alan Schonberg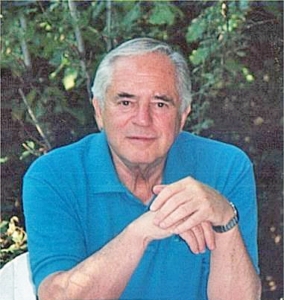 1928-2013
by Peter Cotton, founder and president of Best Sales Talent, LLC
The article below was written in August 2013.
At that time, Alan had been undergoing chemotherapy for Stage 4 lung cancer for a few months.
Alan had a most positive attitude about his diagnosis, saying:
"Living to 85 ain't that bad.  I have no regrets.  I've lived a full life."
He passed away at home, surrounded by his family, on November 15, 2013.
————————————————————————————————-
For more than one-half of my life, there has been one person who has been a very significant, steady, positive influence on me.  When I first met him in Cleveland, I was a Sales Manager for GAF supervising a mid western territory.  He was the President of Management Recruiters International, Inc. (MRI), but I didn't know that at the time.  Nor did I know that MRI was the parent company to Sales Consultants, a recruiting firm I had worked with to fill open sales positions in my district.  When I met this man, he asked many questions about me and my plans for my future.  It was a sort of interview in a way, but I didn't realize that either.
As background, my father owned his own business from the age of 19 until he retired when he was in his early 70's.   Being in control of my own destiny like him, rather than work for GAF, a very big corporation, had a great deal of appeal.  It was that first conversation in Cleveland with the MRI President, and the advice and counsel he later provided, which put me on the path to own a recruiting firm.  I purchased the Sales Consultants franchise from MRI for the state of Rhode Island and began in my current profession in the spring of 1977.
This former MRI President has unparalleled wisdom and an extremely positive outlook on life.  His sincere interest in helping other people reach their full potential sets an example that few could ever dream of duplicating.
The man I speak of is Alan Schonberg.
I won't give you a lengthy biography of Alan here, but to sum it up quickly – he is the legendary Co-Founder and driving force of Management Recruiters International, Inc. (MRI –later referred to as MRINetwork). He founded Management Recruiters International, Inc. in 1965, and served as its CEO for 35 years, then as Chairman for an additional 3 years, and is currently Chairman Emeritus.  Many of his recruitment methods and business strategies have become industry standards for the executive search business. Currently, Schonberg is Chairman of WorldBridge Partners, Chairman of RealMatch, and Chairman of the Ohio Israel Chamber of Commerce.
Over the years, Alan has served as an officer and president of numerous professional organizations within the search industry, as well as the International Franchise Association. He has been recognized many times and in many venues for not only his leadership in the search industry, but also for his entrepreneurialism, his contributions to the business community, and his tireless philanthropic work.  His home is adorned with countless awards and plaques for all his achievements.  Considered to be THE expert in the search business, Alan has also authored two very successful books,  Headhunters Confidential and 169 Ways To Score Points With Your Boss.
Alan built MRI over the years into the world's largest search firm due to his mastery of the franchise concept.  Under his direction, MRI grew to over 1,200 offices in the United States, Europe, Asia, the former Soviet Union, South America and Australia. MRI's ascent resulted from Alan's knack for building deep, long-lasting relationships with people, identifying or creating trends, as well as for directing his company into fruitful new markets. In its zenith, MRI reached nearly $800 million in network revenue, with approximately 4,500 recruiters, placing more than 40,000 people a year.  In the process, Alan provided the opportunity to countless people in the MRI "family" to enjoy limitless personal and psychic rewards from an intensely personal business.  In fact, he helped make scores of people become millionaires in the process. In turn, the recruiters within MRI positively impacted on the careers and incomes of hundreds of thousands of candidates.  Indirectly through the placement of these candidates, the recruiters helped countless companies grow with millions upon millions of dollars (probably more like billions and billions of dollars) in new or increased business, cost savings, or new products.  Alan's idea of forming and building MRI had a significant and positive impact on the US economy over nearly four decades.
Building any company from scratch to nearly $800 million in revenue and 4,500 workers (recruiters), placing more than 40,000 people a year, is no small feat.  However, what makes it even more significant is that MRI didn't purchase raw materials or components and then manufacture something to be sold.  Nor did it buy finished goods, like a wholesaler, for the purpose of reselling them for a profit.  Alan's business model, which became a system that could be duplicated over and over by the thousands of people who bought MRI franchises, or worked in them, was based purely on person-to-person conversations!  He created a huge, international and highly profitable business just by having people talking with people — by communicating between employers and candidates.
I've heard some recruiters try to simplify our business in order that non-recruiters might understand it: "Recruiting is merely a matter of matching the right company from the yellow pages with the right person from the white pages.  You just have to make one hell of a lot of phone calls to find that match."  The recruiting business is far more complicated than that of course, but it does underscore the importance of speaking to 'one hell of a lot of people.'
Being a recruiter is an intensely personal business and an intensely personal sales job.  We sell two parties with different needs at the same time.  We sell our services and our ability to find top talent to employers.  We sell our services and our ability to find better jobs for candidates.  Where traveling salesmen on the road may visit and speak to 6 to 8 prospects a day, recruiters "travel by phone" and speak to as many as 50 or more people a day.   Since we don't see our prospects most of the time, we must be excellent listeners and masterful communicators using just the phone.
The recruiting business gets even more complicated than that.  It's not just about conversations.  We deal with people, not products.  So things change.  Almost constantly.  Within the mind of a candidate or employer, there exists a maelstrom of ever-changing thought, emotions, desires, needs, fears, and motivations.  Candidates are influenced by parents, spouses, children, friends and co-workers with regard to any decision about making a career change, with an over-riding concern of avoiding a wrong decision.  Employer's minds are influenced too. They are influenced by their boss (and their boss's boss); budgets, competition and even the fear of hiring the wrong person for what it might do to their own career.  So understanding people, truly understanding them, became the basis for how the business of MRI got its foundation – from listening, truly listening, to our candidates and employers, and of providing them the highest levels of professional service.  Helping people navigate through big decisions affecting their careers and their businesses is the very thing that Alan Schonberg has always done so well — and it is what all recruiters do each and every day.
Anyone who has met Alan will tell you that when you speak to him he truly listens. As he listens, you know that he is focused on you and only you.  If you spoke to him in a room full of people, you would think you are the only person in the room.  That's how intently he listens.  He doesn't exert any effort to listen or to understand you.  His sincere interest in people, and to be of service to them, is at his core.  If asked, he'd go out of his way to provide advice or guidance to someone.  He likes to help people solve problems.  Alan also has an uncanny knack of not only remembering the names of the people he deals with, but he remembers their spouse's names and their children's names, too.
Within the MRI "family" of owners and their employees, Alan has always made himself available.  People call him from all over the world to get his counsel on everything from business to personal matters.  He is very generous with his time and he is looked upon as an incredibly wise man with deep and broad knowledge of many subjects aside from just business.  I couldn't agree more.
I have witnessed Alan's style with regard to helping people make important decisions.  I've even experienced it firsthand myself.  When presented with a situation, and being asked what might be the best way to handle it, Alan will reflect for a moment and suggest that there are perhaps three possible ways to approach it.  He doesn't tell you which option to take.  He will lay out the first option (including its pluses or minuses) which may sound like a good resolution.  Then he follows it by a second option, which may sound to be a little better, including its own positives and negatives.  When he gets to the third option and explains it, you soon realize on your own it is apparent that this is the best option of all.  Alan helps you realize this and he supports you in choosing this course of action by empowering you to take responsibility for it.  He helps you overcome your fear of making the wrong decision.  I've never seen this process done by anyone else so artfully.  It is far more common to hear someone tell you what to do, rather than help you weigh all the options and allow you to make your own decision.
In my opinion, Alan is the consummate sales professional.  He built MRI though his art of selling.  He was masterful in how he led the franchisees into new horizons of recruiting.  He was the first to pioneer taking the business from APF (Applicant Paid Fees) to entirely EPF (Employer Paid Fees) in the 1960's and the entire recruitment industry followed.  He coined the phrase and the methodology of Contingency Search and the entire industry followed. He oversaw and helped to evolve the most sophisticated training programs in the industry – from paper manuals to VCR training tapes, to broadcast TV/satellite training, to videoconferencing training in each office, to DVDs and ultimately into online training courses with MRI University and an online Video Vault of thousands of hours of training sessions and lectures on best practices. And so much more, space will not allow me to detail it all.
What makes Alan so special is that he makes other people feel special.  He makes you feel better and bigger.  He makes everyone feel comfortable, because he has a way with people through his warm and caring personality. He finds conversation with people from all walks of life easy, and as a result, people are drawn to him and they trust him. As surgeons have skilled hands, as accountants have knowledge of tax law, as lawyers have knowledge of the law, Alan's stock in trade is his uncanny ability to relate to people.
Beyond his many business and philanthropic achievements, Alan is most proud of his blended family of seven adult children, fourteen grandchildren and one great grandchild, with another on the way in the fall of 2013. As he is generous with his time for people in the MRI Family, Alan is most generous with his time for his family, orchestrating magnificent family trips or flying from coast to coast to attend graduation ceremonies or weddings of his grandchildren, birthday celebrations, or just a family visit. He is loved by everyone in his family, but Alan is also loved by the thousands of members of the MRI family as well.
Alan is a renaissance man. A man for all seasons. I have long respected, admired and loved him.
I am most proud to say I am his son-in-law.