While so many people wish and hope for life in America to return to normal, so many portions of our lives have been changed forever. When it comes to the process of searching for executive sales talent, the changes are dramatic and game changing.
As commerce returns in a world that maintains social distancing and coronavirus concerns, the skills of a new sales executive must be far more wide-ranging and in touch with the business pressures that exist today.
At Best Sales Talent, we have studied the way changes in lifestyle and commerce have affected executive searches, and we will discuss how those changes impact your own sales management search to allow you to make the best possible decisions for your company.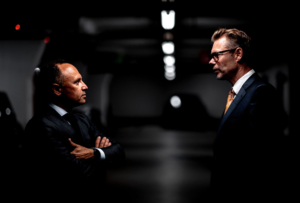 How executive search has changed
Among the 22 million people who lost their jobs in the United States due to business losses related to the coronavirus pandemic, some of them were sales employees. At the same time, talented individuals who were ready to make a change to a better, or new sales role, found the landscape changed and their immediate career aspirations put on hold. As a result, this group of active jobseekers, in addition to the universe of passive candidates has grown.
Simultaneously, your company may have been required to rethink your sales priorities and marketing strategies. The skills you needed for a sales or marketing executive prior to the pandemic may now have been permanently altered. You have many different pressures to consider related to the world's adjustment period back to something akin to normalcy, and you must maintain a list of new priorities as you search for new sales and marketing talent.
A third consideration is the attitudes of your current staff and the relationship you have with employees who may have been laid off due to business losses related to the pandemic. Are you rehiring those employees if they are still available? Are you rehiring them to the same role they were in before Covid-19? Or were you looking to make (or needing to make) significant role changes before the health crisis, and now you must consider whether this is the proper time to institute those changes?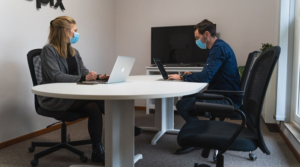 Interviewing in the time of social distancing
This point is key to your process of interviewing and hiring new sales and marketing talent. How will interviews be conducted? Are you going to demand in-person interviews for the first stage, or later in the process? If your initial interviews are going to be conducted remotely, are you going to have fewer executives involved? Are you going to demand that your sales or marketing candidate be fully vaccinated? Will you consider those candidates who do not want to be vaccinated?
Since the position you are hoping to fill is a customer-facing position, requiring an employee with solid people skills, you must consider what you are going to require in terms of their approach to the job. How will a candidate's attitude toward social distancing affect your decision? Should your job requirements related to contact with others be included in your job description? Or is your company management flexible regarding how employees approach the new social environment?
The role timing plays in a talent search today
The talent deck has been shuffled. The best candidates may not be actively seeking a change, wanting to stay in their current roles.  Some, who have been recruited, may already be talking to other companies.  You will be in an even more competitive position attempting to attract these candidates. You need to ask yourself "how desperate are we to fill these positions, and what will we do to compete for these candidates?"
Whether you are in a rush or have time to ponder your choices, a conversation with Best Sales Talent is a wise move. You have many items to consider on your to-do list related to talent search, and we have the knowledge to assist you in putting that list in its proper order, with an eye uniquely trained to help you develop the correct value proposition to sell to candidates.
The talent search you are conducting is unlike any talent search you have conducted before. If you are aware of that, we can help guide you through the process. If you are NOT aware of that, you certainly need to speak to us so we can explain how the old requirements you used in searching for sales and marketing talent are no longer appropriate. We are here to guide you towards the very best hire.
Give Best Sales Talent a call at 401-737-3200.