How To Be Extraordinarily Unimpressive To A Recruiter
by Peter Cotton, founder and president of Best Sales Talent, LLC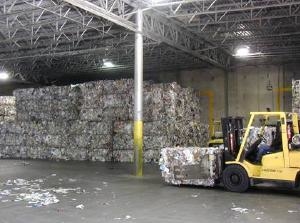 Written In the Spirit of Humor & Edification
I've just returned from gassing up our forklift truck out back in our expansive, two-story, 200,000 square foot resume warehouse.  We've stored all the paper resumes we have received over the last 40+ years back there.  Thank God for the advent of computers, word processing software and the Internet, otherwise the earth would be totally devoid of trees for all the wasted paper. But now that I have stacked the last bail of resumes, it has given me pause to reflect on resumes in general and the candidates who send them out electronically.
Our office gets a ton of resumes every week via email or through our website's SUBMIT RESUME portal.  Most of them come in on an unsolicited basis.  It never ceases to amaze us how some candidates put such little thought into their resume presentation and their approach to recruiters like me when using electronic approaches via email. They can make themselves extraordinarily unimpressive to recruiters like me.  Here is a sample dozen from a longer list of dreadful things we see and how recruiters like us regard them: 
1)  Blank emails.  No subject line.  No message in the body of the email.  No cover letter.  No introduction. No indication what the candidate is looking for in his/her next career. But a resume is attached.  
Good idea to demonstrate that you took about as much care in contacting a professional to assist you in obtaining your next career as you do in throwing out the garbage.  Don't address an email to us personally though, we might take notice of it and actually try to be of assistance.
2)  An email that has 1,259 addresses of other recruiters visible in the SEND TO: line of the email message.
This is an excellent way to make us realize that you are about as selective in choosing a recruiter as a Gatling gun firing 625 rounds a minute from the nose of an Apache attack helicopter.  Can you spell S-H-O-T-G-U-N-N-I-N-G?  It's always nice to see which (and how many) of our competitors will be receiving your resume.  For those of you who think we get more motivated knowing that you are looking for help from 1,258 other recruiters and that it will make us rush to be the first to assist you – think again.  If you don't have the smarts to understand how to email using the BCC line, we seriously doubt you have the smarts to work for our clients.  We have a special key on our computers for dealing with this type of approach.  It's the DELETE key.
3)  Resumes from an automatic resume mailing service that use the same cover letter for all candidates that starts off with:
"I have attached my resume for your review.  You are receiving this resume because your firm specializes in the industries and functions I selected while using…blah, blah, blah." It may appear that our email address is the only one in the SEND TO: line, but we know better. As in #2 above, we know that the other 1,258 recruiters are getting the same message and we have no intention of working on your behalf introducing you to our best clients.  We present our best candidates to our best clients.  If offered a job, they will accept and they won't be shopping around to see what kind of a better offer they can get from any of the other 1,258 recruiters' clients. Another example of a standard cover letter we see coming from job-seeking candidates  via a resume blasting service – we get several of them a week that all looked identical, word-for-word.  Every recruiter and employer knows this email introduction is from a blasting service, especially when the email address it comes from is yourname@resumeblaster.com  Here it is in all its glory (with comments):
Subject: I saw you were recently hiring, here's my Project Manager resume. 
[Really? Where did you see WE were recently hiring?  Also, we don't work with Project Managers, so we press DELETE.  How many other recruiters that don't work Project Manager jobs did the blasting service send this to?  And you paid for that? How many misdirected emails like this are being sent?  How up-to-date is the blasting service's database?]
Dear Sir or Madam: At this time, I am seeking a challenging position with an organization such as yours. 
[Presumptuous: You don't know anything about OUR organization or an employer's organization when you use a 'standard blasting cover letter" that says this.  You obviously have done no research on who we are or on who the employers are.]
I believe strongly that my professional experience and skill sets are an excellent fit with your company objectives.
[Presumptuous: If you don't know who we are – letter not addressed to anyone specifically – and you don't know anything about our firm or the employer firm who received your unsolicited resume, how do you know you are an excellent fit to our objectives or an employer's objectives?]
As you will certainly agree after reading my resume, which is attached for your consideration, I possess all the attributes and abilities that you are seeking in an ideal candidate. 
[Presumptuous: How do you know that we, or an employer, is seeking anyone, and how do you know you are an ideal candidate for either of us?  You know nothing about us, about the employer this went to, or what either of us think may be an ideal candidate].
To further discuss how I can become a productive member of your team, please feel free to contact me at your convenience via telephone or email. I look forward to your favorable response and thank you in advance for your time and consideration.
4)  Resumes of accountants and other non-sales candidates, coming through our website (when our website makes no secret about who we are and what we do).  We are called Best Sales Talent and we recruit sales, sales management and marketing talent – no other kind of professionals. 
It's always a good idea to show us that you cannot read.  It helps us separate you from those who can.  Once again, can you spell S-H-O-T-G-U-N-N-I-N-G?   
5)  A real pet peeve.  Resume filenames tell us so much about you and what you are doing.  Here are three examples: 
Broadcast_Sept13_2004.doc
broadcastresume.doc
massmailresume.doc
Suggest you go back and read # 1, 2 & 3 above.
6) More resume snafus  
Calling your resume: RESUME.DOC We have received tens of thousands of resumes called RESUME.DOC.  Sure, you can tell what the file is on YOUR computer at home, but once it gets to us with that filename, we have to take the time to change it, otherwise we won't be able to find your file as easily on OUR computer.  Worse…a new administrative assistant might save your RESUME.DOC file and over-write the one with the same name  we got five minutes earlier.  Oops…it happens to yours, too… the next time we get the same filename in our inbox five minutes from now!
Some try to help us by calling their resume johnsresume.doc But, please don't try to save us time by making the filename: John_Doe_Resume.DOC…it might set you apart and we know how much you want to blend in with the crowd. Resumes that are titled, John_Smith_customer_service_version.doc are excellent when the job you are submitting the resume for is an outside sales representative's position.  And don't forget that titling your resume as: version 4.doc is very helpful to us.  It's always nice to know that you have the ability to change who you are depending on the situation. Recruiters also love to see your resume formatted in a Microsoft WORD resume template…especially when you forget to insert your own information and instead of a phone number the resume shows [PHONE], prompting you for your own.
7)  Microsoft WORD is a very colorful program.  It underlines in red all the spelling mistakes you make, and in green, all the grammatical or capital letter mistakes you make in your resume.   
We love to get colorful documents.  Please leave in all your mistaken spelling and poor use of grammar. We need a few laughs to get us through every day.  If you actually spell-checked your resume document before sending it out, a good part of our day will now have to be spent on more serious pursuits.  Besides, it gives us a very good idea how much care you put into a sales presentation of the most important product you have to sell – YOU.  It also gives us a good idea how much care and forethought you'd give to preparing for an interview with one of our clients.  The word CARELESS comes to mind, as in, you could care less.
Oh yeah…remember that spell check is not intuitive.  If you type manger, when You mean manager, it won't correct it.  Same applies for other sound-alike or similar words that are spelled differently, like: one and won; accept and except; affect and effect; advise and advice; its and it's; lead and led; their and there; to, two and too; your and you're.  Once again, we request that you don't pay attention to these subtle differences.  Our job is pretty tough and we really enjoy a little levity every day.
8)  Unreadable resumes in formats created by archaic word-processing software programs that, when opened in WORD, become nothing more than code…not text.
This conjures up a scene in the movie, A Beautiful Mind, with Russell Crowe (http://www.abeautifulmind.com/main.html ) trying to decipher a complicated code.  We may not have the genius IQ of John Nash, the man he portrayed, but we do thank you for providing us with a daily challenge of trying to decode your top-secret documents.
9)  Blank documents
This ranks up there with #8.  Be sure not to verify what document you are attaching to your email.  We like surprises, too.  Perhaps a blank page tells us more about you than you know.  Along the same lines, we always get a kick out of an email that refers to your attached resume when you have forgotten to attach it.
10)  Sending your resume when replying to job postings that say "MUST currently reside in Providence R.I.," but you live in Bosnia or Fiji. 
This really presents no problem to our clients.  They will happily reimburse you for travel to the office from your home location and back again each day.  Please let us know in advance however, if it's OK with you if all the flights are coach class.  Be sure to supply your frequent flyer number when sending in your resume.  May we also suggest the book titled: Overcoming Jet Lag by Charles F. Ehret, Lynne Waller Scanlon? (http://www.amazon.com/exec/obidos/ASIN/0425099369/qid=1095182747/sr=ka-1/ref=pd_ka_1/104-8573843-9455115 )
11) A cover letter addressing me on a first name basis and with a tone, or specific wording, to make it appear that we spoke or corresponded previously. (i.e. "When I last contacted you, I was the Director of Sales for….") 
Call me old fashioned, but I think most recruiters would prefer to be addressed by Mr. or Ms. on a first contact.  But don't do it, because it might reflect on you in a way that shows you are respectful.  And it might demonstrate to us that you will be that way with one of our clients on a first contact.  I'm sure the Vice President of one of our clients would want to be called on a first name basis when you walk in the door for your first interview, too.  Trying to make me think we spoke or emailed to one another before, when we didn't, annoys me.  It makes me think I am suffering from memory loss and I am not yet that old.
12) A cover letter in the form of a template that you forget to fill in: 
September 20, 2013
Mr./Ms.
Company
Title
Address
City, State, Zip
Dear…………………….:
After extensive research, I have identified (name of company) as an organization that recruits sales professionals for the Pharmaceutical Industry.  Once again, do not address us personally, or we might actually think you are being a professional in your approach.  Go back and read #2.
<><><><><><><><><><><><><><><><><><><><><><><><><><><><><><><><><><><><><><><><>
How effective is YOUR resume at selling who you are and what you have accomplished in a concise, easy-to-read format?
We'd be happy to help you improve on it.
We provide two options to help you develop your resume.
Email your resume to us at info@bestsalestalent.com  with the subject line of RESUME ASSISTANCE and we will follow up with a call to you to discuss your options.
Alternatively, give us a call at 401-737-3200.
Want a few laughs? 
Check out more resume humor at: http://jobmob.co.il/blog/funniest-resume-mistakes (if the link above doesn't take you to the website, copy the URL above and paste it into your browser)