From time to time I will post articles written by others.
The following post was written by a friend of mine.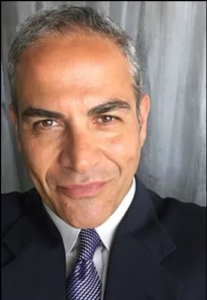 Paul Fioravanti, MBA, MPA
CEO | PRIVATE EQUITY OPERATIONS | TURNAROUND | GROWTH | FINANCIAL OPERATIONAL FIXER | EBITDA DRIVER | ADVISOR | DIRECTOR

Pandemonium + Pandemic = Pandemicomonium? 
Howie Mandel must be losing his mind.  I must confess I am also a germaphobe, but like most of us, that became a gradually phased-in kind of awareness.
When we were kids, we'd be sleeping comfortably in our beds in the winter, and my dad kept the heat at a level where you could see your breath.  My mom would give us "the wake up call" early on a Saturday morning – opening the windows to let the fresh air in, while vacuuming to get you up and she'd say "Up and at'em."  She was a great motivator. If she was still here, she'd be bleaching everything with Clorox and doing hundreds of loads of laundry with Oxydol. The house would have more supplies than the bunker underneath Greenbriar in the 60's. If anyone could kill a germ or a virus, it was Evelyn.
I feel like this is that Saturday morning wake up call for our world. We've been caught sleeping. We got lulled into the comfort of the warm bed. We needed to be shocked and awed, yet mostly our responses were confused and apathetic.
Coronavirus, ok, game on.
I grew up in Providence, Rhode Island. I lived away at college.  I went to clubs in the 80's. Long ago I changed my sons' diapers. I may have even attended their friend's birthdays at Chuck-E-Cheese.  My kids dropped food on the floor? Five second rule, my a$$. Ours was never the car you'd find the six year old French fry in, wedged into the crevice next to the seat belt.
I have spent thousands of nights in hotels, flown hundreds of flights and killed time seated in the nasty gate seats in airport terminals. I've driven rental cars and sat in the backs of New York cabs, been on trains and subways and some Ubernasty Ubers. I've shaken thousands of hands of friends and business acquaintances in many years of a business career.  As much as I tried to tense up my body to avoid holding the escalator side rails and the railings of the trains in airports, sometimes I had to so I wouldn't tumble. 
I periodically take all the cards out of my wallet and wash them. Yup, it's not that OCD if you think about it. Payment portals, gas pumps, swipe, chip, do the math.
Truth is, your phone is the magnet for the germs in your life. Clean it several times a day.
I'm the guy who cleans his luggage and the bottom of my shoes – yes, it's a sickness – and cringes when I think about what might be on the bottom of my shoes after a walk down Avenue of the Americas in Manhattan or dodging pigeons outside the Duomo in Milan.
Whatever this is, it's not getting me. I'm not going down from a virus named after shitty beer.
Luckily like most, I've dodged it thus far.  My son was the first one to tell me (jokingly) that Woody and Mrs. Woody (Tom Hanks and Rita Wilson) were affected, and he said, astutely, it does not discriminate.  Tom Hanks' celebrity, wealth, and general nice guy-ness weren't enough to dodge it. In true genteel Hanks fashion, he and his wife have handled it beautifully.
For the rest of us, it's a bit of luck and chance.  It's a spin of the wheel and a roll of the dice. It's picking up the upside down orange card in Monopoly.
Of course, we must practice rigorous hygiene and repeated hand washing, be aware of contact surfaces, practice social distancing (I think most of us were doing that anyway?). 
Yes, Corona.
It's either named after one of the tiny 1970's models of Toyota which looked like tiny Volvos, or it's named after a beer that people like to drink from a place where drinking the water usually results in something worse than Coronavirus.  Or, if you prefer and you're old enough to remember, the little typewriter that had the revolutionary cartridge with two strips, the black ink and the white correction ribbon. Smith Corona. Whoa, wayback.
How dirty are the limes that bartenders squish into the bottle necks – the limes that have been cut by hand, handled, and tossed in an out of the same compartmentalized strip alongslide the maraschino cherries and the lemon wedges?
Have you ever caught a glimpse of the overhead bar glasses in a pub when the sunlight shines through them? Can you say antibodies?
Maybe the beer isn't so bad after all.
We're viewing each other and every tactile encounter with fear.  Just watch people at an ATM or a gas pump.  Watch the octogenarians at Costco – some are terrified to touch the handle of the shopping cart.  They didn't have a problem touching hundreds of buttons on the slot machines an hour earlier, or eating dinner at 3:00 at the buffet without the sneeze guard.
Still, some of them wear masks.  Then they pull the mask down to repeatedly circle around the glorious mecca at the intersection of aisles A and 19 where there's a grandmotherly woman handing out samples of cream cheese and salmon on crackers. What could go wrong, it's 4:00 now and Agnes dutifully prepared those crackers at 9 a.m.
I've seen people at airport bars wearing masks, pulling them down to drink from the not-so- clean class, and then touching the bottle of ketchup that's been there and refilled and touched thousands of time since 1987, and eating with the not-so-clean fork that has that kind of scaly silver outer crust on it.  Yup, you know the one.
I've read the American Red Cross web site, the CDC and others and I watched political leaders doing their obligatory press conference.  It's the equivalent of Kevin Bacon's ROTC character getting trampled into the sidewalk saying "all is well" in Animal House.
The Johns Hopkins dashboard is one example that shows the seriousness and magnitude of Covid-19, for anyone who would rather get hard data rather than relying on your Aunt Marge's Facebook page or the real estate and insurance people trying to get you to buy vacation property and whole life policies. U-huh, source credibility.
When you're a data and numbers and metrics guy, you don't buy hype or politics, but you trust the trends and the data, and what we are clearly dealing with here is a lack of leadership.
If you want to see a great example of hastily conceived, half-baked responses, just follow the messaging of state and local officials. Some of the "official dialogue" is as self-delusional as thinking the air blower to dry your hands is hygienic. Or, when they don't know what to say or how to lead, they just force an overreaction which leads to panic, and a shortage of toilet paper.
At least we don't have to worry that the college students will be toilet-papering the trees on the quadrangle. You can get good money for that bootleg Charmin.
I love how the family whose Facebook page has pictures of their kids' drippy noses and dirty feet are giving advice on managing a pandemic.
I seriously would like to see Elon Musk, Bill Gates, Warren Buffett, Tom Hanks and Tim Allen (Woody has Coronavirus but Buzz does not) do a brainstorm session on toilet paper supply chain or a design charette on rethinking toilet paper.  I bet the redesigned toilet paper would look better than Musk's "pickup" truck.
Suddenly the Kardashians seem even less interesting.   There might be a petition circulating for extended quarantine for them. They are just another group of people home from work, scuffing around the house in their bunny slippers (or their Yeezy shoes) in a daze, bathrobe-clad, like Will Ferrell after being hit by the tranquilizer dart (by the guy who was Stifler in American Pie) in Old School.
It's time for some good old-fashioned, bold American passion and creativity.
Let's put Charlie Sheen, Keith Richards, Dennis Rodman and a few other wild personalities in a Sam's Club for 24 hours, like "Supermarket Sweep." Reality TV. Can we get someone to do "We Are the World," "Live-Aid," "Farm-Aid" kind of music contribution? Music soothes the soul in times of crisis, but please no re-lyricked songs, "Hello Virus, My Old Friend, I've Come to Dodge You Once Again….The sounds of science."
Let's take the political candidates and the leadership of the three branches of government and put them in a cabin with 30 days of provisions, a campfire and smores and let them iron out their differences and forge consensus.  
Maybe they'll stop the bickering.
Imagine a movie called "Don and Nancy." We had a Sid and Nancy about the Sex Pistols, but this would be far more interesting. Put them on the road in a Winnebago like Albert Brooks in Lost in America.
Let's take all the home renovation tv show people, from Flip or Flop to Tiny Houses, and put them on cleaning up airplanes and public spaces.
Let's put Harvey Weinstein and Bill Cosby in a Smartcar and weld the door seams shut. Get all the bored, idled college kids some baseball bats and let them pay money to take a whack at the outside of the car. Donate the collected money to victims' charities and awareness, or to a Coronavirus related charity. Want to take a whack at two lecherous bastards? Me too.
When this is over we need a 1970's Irwin Allen-esque disaster movie with the feeling of Towering Inferno and Poseidon Adventure.  That kind of fear drives change. Odd how Netflix know exactly when to run Outbreak and Pandemic and pulls all the stuff you wanted to watch when you didn't have time?
Dave Chappelle, Nikki Glaser, Sebastian Maniscalco, Chelsea Handler, and probably Eddie Murphy, too, must already be penning brilliant material. It might give SNL something to create tongue in cheek humor for. They certainly need new material.
Apparently the industrialized world can't make enough toilet paper, we can just have CVS print off the 36 feet of receipt (with coupons for stuff we don't buy) we each get on toilet paper, instead of regular paper.
We live mostly indoors.  This is a signal that we need to get outside more and breathe. Do something creative. Write something, draw something, paint something. Maybe everyone should paint their houses.  Clean. Get their proverbial house in order, lives in order.
Watching the local news, regardless of what state I've been in and I saw public officials waiting on their hands,  looking to see what the other town did or said.  The public sector was generally unprepared for this.  We've known about it for months.  It wasn't a surprise. 
It's always better to PROact than React. 
Every company feels obliged to blow out emails with a Corona soliloquy.  Thank God I heard from them, I was on the edge of my seat wondering what Auto Zone and the Tumi luggage outlet were going to say.  
When you're in my line of work, you fix things, situations. In my case, it's businesses, companies. Companies, like society, periodically have things happen to them that are beyond their control. This is one of those times. One of the things you learn is that time is the one precious resource you can't get back, and organizations need to use it wisely.
The pharma companies and regulators and industry attorneys need to partner up, and speed up the regulatory approvals process and get needed medicines to market faster, rather than focusing on the legalese about the 74 maladies that can befall someone trying to lower their cholesterol.
The airline industry needs to take a breather and clean up their act, their planes, their lounges, and their protocols.
Hospitals and other institutional healthcare infrastructure is bearing tremendous weight right now.  Healthcare workers are true heroes. Let's give them what they need, which might just be a break or a rest, or backup support.
Higher education insitutions showed just how poorly prepared they were.  It's a major failure point in American society. They are fighting change kicking and screaming.  Degrees are too expensive, take too long, the infrastructure is aging, and the ones without endowments are failing fast. What we need is pragmatic leadership like Rodney Dangerfield's Thorton Melon from Back to School and what we get is the crusty snob teaching the class who couldn't run a lemonade stand. Repurpose those soon to be abandoned small college campuses for something productive like heathcare facilities, low income housing for the homeless, or business incubators, or new micro communities.
With the flights empty and grounded, hotels vacant, restaurants quiet, forms of transportation idled, companies empty because people are home, NOW is the time to clean, scrub, wash, sanitize, and even more importantly, manage, plan, fix, restore, prepare. And to make sure the next time something like this happens, the response is more coordinated.
Let's use the time wisely.
Let's share resources and work together. We don't have to shake hands. We can fist bump, or not.
I remember advertising running after 9/11 showing streets with rows of houses clad with American flags. The lament was how America was changed forever. This is again one of those times – but this one is wrought from the iron of human persistence.
I say we hire a great graphic designer and make a universal brand/logo that shows how strong we are together and how we are conquering it.  We need a solid acronym. Make the COV in COVID something like Conquering Over the Virus. 
Maybe the logo is a fist bump or a fist pump.  We are tough, resilient, we will conquer this micro madness.
I can hear the soundtracks of the 80's Rocky movies playing.
Eye of the Tiger.
Gonna Fly Now. (maybe reserve that one for the airline industry)
I can't wait until this is over.  The nations of the world should mark it with a celebration.  Coronapalooza.  That would give the UN something to work on.
Whatever the news release says, when the news finally comes out that we've conquered this monster, it has to be narrated by Morgan Freeman.
Because regardless where you are, where you're from or how you were affected, it's the closest thing to any God's reassuring voice.
Which is what we really need to hear right now.
---
Paul Fiorvanti, Managing Partner of Qadent Management Services, LLC, is a transformational CEO and proven leader.
Paul is founder and Managing Partner of Qadent Management Services, LLC, a Florida-based interim CEO management firm, where he serves as Managing Partner. Paul is a proven leader with extensive experience in CEO, COO, CFO, CRO (Chief Restructuring Officer) and president roles across myriad industries. Qadent specializes in financial and operational business realignment and driving improvements in KPI's, including, but not limited to EBITDA. Paul's emphasis is on careful management of stakeholders and special situations.
Among Paul's recent accomplishments was leading, as CEO, the complex turnaround of a private equity-owned global CDMO (contract development and manufacturing organization) in the pharmaceutical services space, one with nine global operations employing 1,900 people and generating $350 million in revenue, producing a mix of API (active pharmaceutical ingredient), oral solid dose, sterile fill and finish, and pharmaceutical packaging products and services. Paul's leadership took the company's EBITDA from negative 45,000.00 USD to a positive $30 million USD, and in less than one year, he stabilized and returned the company to profitability while managing banking relationships, key customer relationships, ensuring regulatory compliance, driving resource efficiency and operational excellence in the process.
Paul works across a variety of industries and situations, leading businesses through dramatic transformation and change.
He is available to consult on a long or short term basis, in interim or long term assignments.
Paul and Qadent offer complimentary initial consultations which can be scheduled on the Qadent web site.
Paul can be reached at:
Paul Fioravanti, MBA, MPA
Cell (401) 536-8000