People get involved with sales as a profession for a variety of reasons. But the best salespeople, the ones you are looking for, likely have one personality trait in common.
They are social people.
During the world's recent experience with quarantining, the social aspect of life seeped away for many people. Jobs became remote or virtual. No one went into the office anymore. Meetings were held over video-conferencing tools.
And sales became a practice in contactless presentations. Life changed for everyone for more than a year, and the change was perhaps greatest among salespeople.
At Best Sales Talent, we search for and recruit the best salespeople available for your needs. But it is up to you to ensure that the talent you hire remains emotionally and mentally stable in a world that challenges us all daily.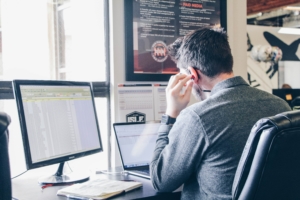 Remote work is a positive; however…
It turns out now that remote work is extremely popular. Employees are more than willing to do their work from home rather than drive to work, deal with in-office social issues, and use the company's ancient coffeemaker.
But there is something to be said for human interaction. While sales meetings and company events may be bothersome or interpreted as a nuisance, they serve a purpose, one that is being shunned today as the workforce stays remote or operates on a hybrid schedule where few people gather in-office at once.
Throughout the pandemic, however, many people reported psychological concerns over the effect of extended isolation. While your salespeople may be the strong, silent type not to complain about such matters, it is necessary for company executives to consider the impact of continued isolation on the people who represent their company, products, and services.
If you have reason to worry about your salespeople being too isolated as they sell from home, there are ways to battle the dilemma without demanding a return to full time in-office appearances.
Ways to fight isolation in your salesforce
Step 1 – Determine if the problem exists.
Talk to your sales staff and ask them if their new remote work environment is affecting them psychologically. They may be reluctant to say anything negative because they like the idea of working from home, but let them know that your concern is for their well-being, which affects sales both positively and negatively. Give them a chance to describe how the new work rules are impacting their sales techniques as well as their non-work home life.
Step 2 – Encourage work away from home.
There are numerous companies like WeWork which offer workstations in business zones in many American cities, and your firm can offer a stipend to salespeople to defray the cost of using those sites. There are coffee houses with acceptable wi-fi and respectable clientele. There are libraries that are now inviting patrons again and have quiet rooms where salespeople can conduct conversations by phone or video conferencing.
Step 3 – Offer (or demand) occasional in-office attendance.
This can be done in multiple ways. You can have once-a-month social hours, or a once-a-month in-office sales meeting to replace those daily or weekly meetings you had previously and perhaps still have by video conference. You can demand your employees work from the office once a week. You can schedule an offsite event for purely social purposes. The idea is to get your salespeople out of their home office and out among friendly faces.
Step 4 – Retreats or offsite events
Depending on the geographic scope of your workforce, planning an offsite event in an attractive setting can bring together coworkers who have never met. Such an event may be a new idea to your firm, but these are unique times, and such an event would do wonders for team morale and get your staffers out of the house.

Why am I doing this again?
It has been 70 years since Arthur Miller first presented Death of a Salesman, a story that evoked the necessary loneliness of the sales profession. While the day-by-day details have obviously changed, the profession does lend itself to lone wolf performance, and today salespeople can succeed without ever leaving home.
Even if they are effective salespeople working remotely, they may not be healthy physically or psychologically due to the remote nature of their lives. Many companies want to build bonds between employees, and such bonds are difficult to create in a virtual world. Frankly, it is harder for salespeople to leave one company for another when they have built such bonds with coworkers or sales teams.
At Best Sales Talent, one of the characteristics we search for in the salespeople we recruit for you is good people skills. Such skills are seeping away as our physical interaction experiences decrease. But your company will enjoy greater sales if your salespeople are happy with both their company and their lives. Getting them out of the house will promote such happiness.