Yogi Berra and Job Search
by Peter Cotton, founder and president of Best Sales Talent, LLC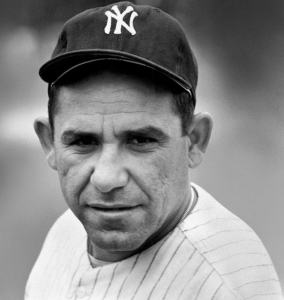 This past week a great baseball legend passed away. Yogi Berra Yogi played for 18 seasons with the New York Yankees as a catcher and he was inducted into the Hall of Fame in 1972. He played in 14 World Series and, with his teammates, won 10 of them.
Yogi was famous for more than baseball, however. He is famous for some of his quotes like: "Baseball is ninety percent mental, and the other half is physical" and "It ain't over till it's over."
I have a particular interest in four of his quotes, because they could pertain to looking for a new career. For example:
Frequently, employees come to a point in their career where they have to make some important decisions. Should you ask for a raise? Should you ask for a reassignment to another part of the company or the country? Should you begin to look for a new job? Should you take that interview that a recruiter arranged for you? Should you accept that job offer? Should you accept or reject the counteroffer from your current employer? In all these scenarios, you must make a decision. Not deciding – making no decision at all – is in fact, a decision. Therefore, this quote by Yogi will apply in each of the above instances:
"If you come to a fork in the road, take it."
Frequently I am approached by candidates who ask me for help in finding a new job for them. During my initial conversation I hear them tell me that they have no specific idea what they want to do next in their career.
Sometimes they tell me "I'm open" meaning that they would be receptive to hearing about any and all jobs. In other instances, they tell me what they don't want by describing all the things they don't like in their current position.
When candidates tell me these things, I ask them when they went on their last vacation and where they went. I am usually regaled by a story about a wonderful trip he or she took. Then I ask them how much thought went into their decision — how much planning and preparation did they go through as to where and when to go on their vacation, i.e: (1) researched vacation locations; (2) arranged to take time off from work; (3) made flight, hotel and car rental reservations: (4) planned on where they would go each day and what they would see or do; (5) got sufficient cash or traveler's checks for the trip; (6) stopped the mail; (7) put the dog in a kennel; (8) put timers on the lights in the house; (9) turned off the A/C or lowered the heat in the house, etc. It could be any number of those things. Most likely many more. Then I explain that saying they have no idea what they want to do next in their career means they spent more time planning a vacation (a short-term pleasurable experience) than they have so far in planning their career (a long-term very important experience). I also tell them that when they have nothing specific in mind, they may be influenced by others to take a job, begin working and then realize it's not what they wanted to do. There are two Yogi Berra quotes that would apply here:
"If you don't know where you are going, you might wind up someplace else."
And…
"You've got to be very careful if you don't know where you are going, because you might not get there."
And finally, there is this famous Yogi Berra quote:
"The future ain't what it used to be."
How does this apply to a career search job? In the old days (post WWII through late 1950's), an employer could run a help wanted ad in the newspaper and have a line of applicants outside his door the next day. Then employment agencies came into being in the 1950's or so and people went there to apply for jobs the agency had listed. Candidates paid a fee to the agency when they landed them a job. Then one recruiting firm (MRI) pioneered the business model that employers should pay the employment agency fee (around 1964). The entire industry followed and the days of candidates paying a fee were over. Later, in 1977, MRI elevated the business from an employment agency business model (emphasis on getting jobs for lots of people) to a recruiting firm model (emphasis on getting very top talent for specific positions in their client companies). This was followed by the emergence of email and the proliferation of resumes being sent electronically. The days of sending paper resumes would soon be completely out of vogue. What followed was the arrival of the big job boards – Monster and Careerbuilder – and then the thousands of niche job boards fragmenting the market. Along came LinkedIn, and later software with algorithms which could allegedly remove the human element in the hiring process – the jury is out on that for a long time to come. Who would have thought back in 1950, that the future of job search would be what it is today? What we can be assured of is that it will continue to evolve. Thus, "The future ain't what it used to be."