The "Holiday Slump"
It Could Actually Be Your Best Opportunity for Finding a Job or Placing a Candidate
by Peter Cotton, founder and president of Best Sales Talent, LLC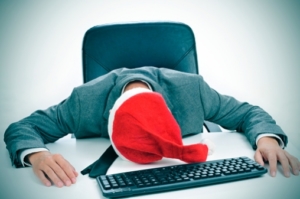 Here we are again…if I can quote an old refrain, "it's beginning to look a lot like Christmas…"
Whether you celebrate Christmas or not, it always feels like everyone's mindset about being productive drastically declines sometimes as early as the day after Halloween – or definitely before Thanksgiving.  People use "the holidays" — in theory, just two days for Thanksgiving, one for Christmas and one for New Year's Day — as their biggest excuse as to why they aren't hiring or job searching.
While some people take vacation during the "slow holiday time," everyone else is just putting things off until after January 1st.  Things are slow during this time because of the "holiday" mindset.
Bear with me for a quick moment though…I have always thought, like generals, a good time to attack is when the enemy is sleeping.  So, when the majority of job-seekers are slowing down or stopping their search until after "the holidays," some smart people are accelerating their search: making more calls to hiring managers, sending more resumes to hiring managers, getting in front of hiring managers face-to-face (note I didn't say apply online or send a resume to HR as they are probably taking time off or slowing down, too).
You may find this article on The Balance Careers as proof as to why the holidays is the ideal time to job search.  Additionally, Forbes.com has a list on smart ways to job search during the holidays as well as a one related to millennials.
These smart people are finding less competition – and likewise, employers would find less competition for finding top talent.  When companies put things off until after the 1st, they are causing the November through December slowdown in business.  Then after the 1st of the year comes, they start anew to find top talent .  However, most top talent already is gone by then, or it will take them all of January through March to search, recruit, interview, hire, and onboard new people.  This only ensures another period of not doing the most essential thing: make money for their companies.
Rivs.com and iHire.com are just a couple of sites that agree that the holiday timeframe is a great opportunity for recruiters also.
Many recruiters lament that the end of the year is slow for placement activity. I disproved it two years in a row by having my best 4th quarters by having a lot in the pipeline that closed as placements in late November through the end of December. I also had two December search assignments that were under 30 days from the time of getting the search to placing the candidates.
By the way, you may find this article on LinkedIn about recruiting lessons from holidays movies a fun read.
I hope the above blog post encourages you to use the holiday time as an opportunity and an ideal time to ramp up your productivity in finding a job or the right candidate.  Do you have any more thoughts to add?  If so, I'd love to hear them.  Shoot me an email or give me a call at (401) 737-3200.